Following the very successful release of The Daleks' Master Plan on vinyl, Demon Music Group presents The Evil of the Daleks, a classic seven-part 'lost' adventure starring Patrick Troughton as the Doctor in which the infamous Daleks lay a trap in Victorian England for their oldest enemy. The records will be released on 12th July 2019 and are now available for pre-order. RRP £99.99.
'The response to The Daleks' Master Plan from fans was overwhelmingly positive with great excitement for the brilliant new artwork and for the presentation of such a classic story on vinyl. We are very happy to be following that initial release with another gripping Dalek adventure.' Ben Stanley, Head of Product & Marketing, Demon Music Group
In this classic adventure, first shown on BBC TV between May and July 1967, the Daleks are in search of the Human Factor. What's more, they intend to use the Doctor and his TARDIS to assist them in their quest for universal domination! Featuring a climactic battle on their home world of Skaro, the story also introduces Deborah Watling as the Doctor's new companion, Victoria.
Standard edition: 4LP x 12" Heavyweight Translucent Red Vinyl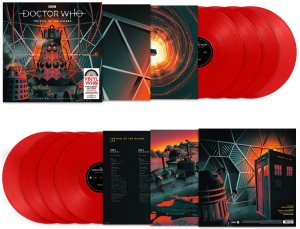 Presented across 4 x heavyweight 180g pieces of vinyl this narrated TV soundtrack evokes another classic Doctor Who adventure in all its aural magnificence. From the eerie sonics of Ron Grainer & Delia Derbyshire's theme tune, and the familiar 'wheezing, groaning' of the TARDIS, through to the sounds of alien time technology and the terrifying roar of the Dalek Emperor, the story is alive with weird and wonderful sound.
Written by David Whitaker, this was the Daleks' final explosive TV adventure of the 1960s.
Amazon exclusive edition: 4LP x 12" Heavyweight Skaro Splatter Vinyl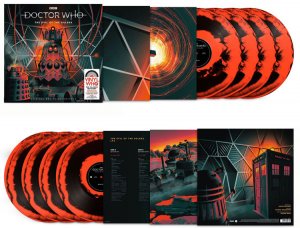 Linking narration is provided by Frazer Hines (Jamie) and the cast includes Marius Goring as Theodore Maxtible, John Bailey as Edward Waterfield, Brigit Forsyth as Ruth Maxtible and Windsor Davies as Toby. The film recordings of all but one episode of this story are lost from the BBC archives.
LP1 is presented with a unique Emperor Dalek laser etched reverse.
The Exclusive and Deluxe editions are available to order from www.amazon.co.uk